In collaboration with
UNESCO
,
the IAU WHED Portal provides
authoritative information on
higher
education systems, credentials
in 196 countries and territories
and
over 20,000
officially accredited or recognized higher education institutions
(
HEIs
)
.
HEIs that are
Members of IAU
benefit from
enhanced visibility
on the WHED Portal. In addition to being clearly identified as an IAU Member, these institutions are
displayed at the top of the search results
and have access to
a permalink
allowing them
to share
their WHED profile with others easily. They can also include campus
photos
as well as their
logo
on their WHED page.
To learn more about IAU Membership and all the other benefits for your institution, please
click here
.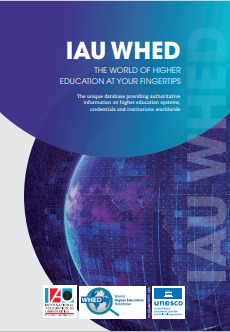 Annual key figures

3,651,309 pageviews - 2,544,408 HEIs profiles viewed

For your information: if you are unable to access institutional information via the
quick-search option, we suggest you clear your browser history / cache.